Notice Board
INSTRUCTIONS TO REVIEWERS/AUTHORS
Ethical Considerations
Any author whose manuscript is associated with a study on humans must supply evidence that the appropriate Ethics Committee was satisfied and approved the study. The study itself must provide information in detail on how  consent was sought and received from the study subjects of their caregivers in the case of children.
---
A Fierce Champion For The Planet

RURAL OUTREACH AFRICA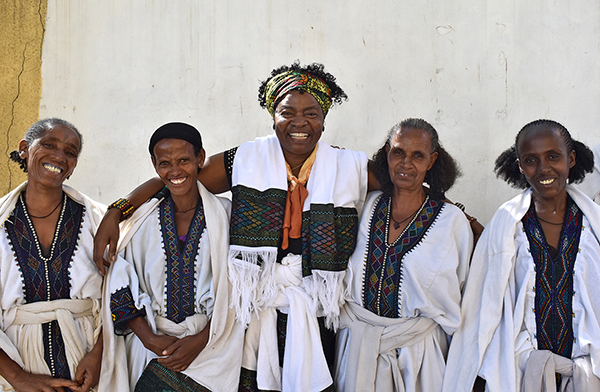 The fight for a healthy planet starts right beneath your feet!
This month, Fierce Hazel celebrates Earth Day by sharing the story of a true fierce champion for the environment and sustainable farming. Working to eliminate hunger and poverty while empowering rural communities in Africa and beyond.

Meet Professor Ruth Oniang'o, the first woman nutrition professor in the entire sub-Saharan Africa. She is an international nutrition expert whose research and development work has shaped global food insecurity and nutrition policies. She served in the Kenyan parliament from 2003 to 2007 where she guaranteed the right to adequate food would be written into the country's new constitution, implemented in 2010.

But she is most known for nearly three decades of ground-breaking efforts through the non-government organization (NGO) she founded—Rural Outreach Africa—to "alleviate poverty, empower economic growth and restore human dignity in rural Africa."

For nearly 30 years, ROA has produced big results:

They have partnered with 100,000 small farmers, 70% of those women.
They have trained more than 300 field extension staff in four countries.
The NGO has implemented school programs in more than 160 Kenyan schools where students have grown more than 80 school gardens.
The kids learn to keep and care for livestock, building the skills to develop their own agribusinesses.

---
NEWS UPDATE
Winrock International Welcomes Two New Board Members
11th March 2021

Winrock International, the U.S.-based national and international economic development organization, today announces the appointment of two new members to its Board of Directors: Dr. Ruth Oniang'o, the long-time chair of the Sasakawa Africa Association and recipient of the Africa Food Prize, and John R. Tyson, the chief sustainability officer of Tyson Foods.

"We are delighted to welcome Ruth and John to our Board of Directors," said Winrock President and CEO Rodney Ferguson. "They bring impressive talents to our organization and we are thrilled to have them aboard. Dr. Ruth Oniang'o is one of the pioneering African women in nutrition and agricultural development and the long-time chair of the Sasakawa Africa Association. John Tyson is an energetic leader who is driving positive change for the global food system in his role at one of the world's largest food companies. Ruth and John bring exceptional breadth and depth to our Board. I am also pleased that staff members suggested both Ruth and John as potential new Board members. Plainly, this kind of staff involvement makes us stronger as an organization."

Dr. Ruth Oniang'o is a professor of nutrition and former member of parliament in Kenya who spearheaded the completion of Kenya's food and nutrition policy. Oniang'o is board chair of the Sasakawa Africa Association — which was founded by Winrock Board member Norman Borlaug, Japanese philanthropist Ryoichi Sasakawa and former President Jimmy Carter — and has worked to define and expand the program. In 1991, Winrock partnered with the association to create the Sasakawa Africa Fund for Extension Education (SAFE), which has spread to nine countries and graduated 4,000 mid-career extension agents. In 2017, Oniang'o was awarded the African Food Prize for her work in agriculture and nutrition. She is also the namesake of one of Winrock's new conference rooms – the Oniang'o Room.

John R. Tyson joined the Tyson Foods team in 2019 and serves as Chief Sustainability Officer, leading the company's efforts to support a more sustainable protein system. This includes driving improvement by implementing the company's sustainability strategy as well as managing the sustainability, animal welfare, environmental, social responsibility, procurement and equity, inclusion and diversity teams.

###

ABOUT WINROCK INTERNATIONAL

Winrock International is a recognized leader in U.S. and international development with a focus on social, agricultural and environmental issues. Inspired by its namesake, Winthrop Rockefeller, Winrock combines scientific and technical expertise with entrepreneurial innovation to deliver market-based solutions that improve lives around the world. Winrock's mission is to empower the disadvantaged, increase economic opportunity and sustain natural resources across the globe.

CONTACT
Chris Hancock
Chris.Hancock@Winrock.org
Winrock International, 2101 Riverfront Drive, Little Rock, Arkansas 72202, U.S.

---
An Urgent Plea for Help
The Nippon Foundation is urgently requesting donations to help the victims of the earthquake and tsunami that recently struck Northeastern Japan.
( http://www.nippon-foundation.or.jp/eng/news/EarthquakeDonations.html )
The damage wrought by the massive earthquake that struck Northeastern Japan on March 11 has been devastating. Estimates already place the dead and missing above ten thousand. People rendered homeless are in the hundreds of thousands. At the moment, there is little that untrained volunteers can do to help on the ground. What we all can do right now, however, is to help raise funds to support both the relief organizations currently working in the affected areas, and the extensive reconstruction work that will follow. The Nippon Foundation has extensive experience working with local partners to provide support after disasters such as the Great Hanshin Earthquake of 1995, and more recently the Mid Niigata Earthquake and Noto Peninsula Earthquake. Our work has really brought home the importance of non-governmental funding that allows civil society to respond in a timely and flexible manner. The Nippon Foundation/CANPAN Northeastern Japan Earthquake and Tsunami Relief Fund will provide effective, accountable, and timely support to trusted partners working in the affected areas. To ensure the highest degree of transparency, reports on the receipt and use of funds used will be posted on The Nippon Foundation/CANPAN website. Donations are now being accepted by credit card at 1,000 yen per share. All donations will go to the victims of the earthquake. We encourage you to not only donate, but to pass this mail along to as many of your friends and family as you can. This disaster is going to take all of our cooperation to overcome.
Communications Department
The Nippon Foundation
Email: pr@ps.nippon-foundation.or.jp
Tel: +81-3-6229-5131 Fax: +81-3-6229-5130
---
KDNC
KDNC is a not-for-profit corporation, with a mission to build a consortium of government agencies, business organizations, development agencies, local nationals of developing countries, and the diaspora nationals from developing countries dedicated to building a network that is focused on the emergence of knowledge that will facilitate fundamental development in developing countries.
http://www.youtube.com/user/numericx?feature=mhw4#p/u/0/bIsMelBhRfU
Macharia Waruingi [ macharia@kdnc.org ]
Doctor of Medicine and Doctor of Health Administration.
Senior Consultant in Health Services and Society at Ustawi Inc.
Faculty Practitioner,  School of Advanced Studies
Doctoral Dissertation Mentor, School of Advanced Studies
Founding Chair of KDNC, a U.S. 501(c)(3) with a focus on health and
human development
---
Using Food Science and Technology to Improve Nutrition and Promote National Development - IUFoST Food Science and Technology Handbook edited by Gordon L. Robertson and John R. Lupien
The IUFoST (International Union of Food Science & Technology) Handbook is now available online. It is intended to transmit useful information on applications of food science and technology to those affiliated to both developed and developing countries. The chapters are freely available for download to ensure the widest-possible audience:
http://www.iufost.org/publications/books/IUFoSTFoodScienceandTechnologyHandbook.cfm
The handbook is a work in progress and the editors are happy to continue to accept contributions from all those who feel that their experiences in this area are relevant and worth passing on to a wider audience. The ideal chapter would be a case study demonstrating how the application of food science and technology has lead to improvements in nutrition and food safety as well as promoting national development. 
Potential contributors are invited to send a 500 word outline of their proposed chapter to gordonlrobertson@gmail.com. Once your outline has been accepted, the final chapter will be due within 3 months. Chapters should be a minimum of 3000 and a maximum of 6000 words and include colour photographs.