Profile
Ms Heike Hoeffler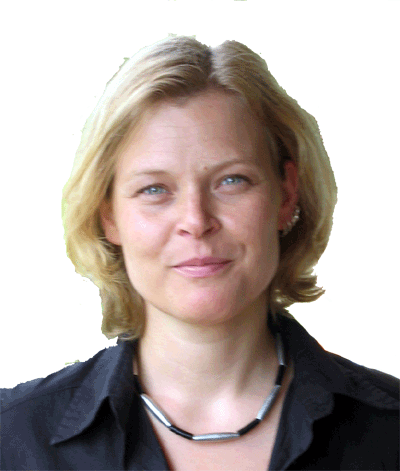 An agricultural economist by profession, Heike Hoeffler finished her studies in 2001 at Humboldt University, Berlin, Germany (Master thesis: "Food Market Liberalisation in Developing Countries: Empirical Evidence from the Kenyan Dairy Sub-sector", which won the Hans H. Ruthenberg-Award for an outstanding research contribution to World Food Security 2002). By then, Heike had gained some experiences in the field of practical farming (www.klostergut-heiningen.info), agricultural research (at Humboldt University and Universidad de Granma, Cuba), German development cooperation, non-governmental work (www.oroverde.de) and German parliamentary work at the Parliamentary Committee for Food, Agriculture and Consumer Protection. She then joined the 37th post-graduate training course for development cooperation at the German Development Institute.
In 2002, Heike joined GTZ (German Technical Cooperation) for practical agricultural development work. From January 2003 to April 2008, she worked as an adviser to the Kenyan Ministry of Agriculture for the implementation of the Kenyan agricultural policy reform agenda ("Strategy for Revitalising Agriculture – SRA") and the bilateral programme "Private Sector Promotion in Agriculture - PSDA". She gained an expertise in the areas of agricultural policy implementation and agricultural value chain promotion; not only in Kenya, but also within Africa wide professional networks. She initiated the GTZ Africa-wide working group on sustainable agribusiness, which is a network of practitioners dealing with private sector development in agriculture by implementing value chain and local economic development projects and programmes (www.gtz.de/snrd). In March 2007, Heike started her part-time PhD at the Institute for African Studies, University of Leipzig, Germany, in collaboration with Tegemeo Institute, Egerton University, Kenya (Title "Poverty Impacts of Agricultural Value Chains – A Q-squared Analysis of rural Poverty Dynamics in Kenya").
Since mid 2008 she is based in Bonn, Germany, and continues her PhD research (with the kind support from the Poverty, Equity and Growth Network PEGNet) and works as a consultant for international agricultural development for various organisations (GTZ, Heinrich-Boell-Foundation, Bill & Melinda Gates Foundation, NEPAD-CAADP, etc.). Her main areas of expertise are agricultural value chains, food price developments, agricultural markets, sector-wide donor approaches and policy impacts on rural poverty over and above developing mixed qualitative and quantitative methods to measure, to monitor and to evaluate rural poverty impacts.
E-Mail: hhoeffler@web.de
Publications and Conference Presentations (selection)
2009. (with B. Owuor) High Commodity Prices – Who get's the Money? A Case Study on the Impact of High Food and Factor Prices on Kenyan Farmers. Discussion Paper, Heinrich-Boell-Foundation, Berlin, Germany. (www.hbfha.com/web/index-146.html)
2008. (with M. Will, L. Vogelzang, & M. Wanyonyi) Capacity Development Concept for Value Chain Development. GTZ and Ministry of Agriculture Kenya publication. Nairobi, Kenya.
2008. Increasing Food Prices on the World Market: What is the Impact on Farmers in Developing Countries? A brief Look at Mexico, Burkina Faso, Kenya and Cambodia. Rapid Survey for the GTZ Working Group on Food Crisis, GTZ, Eschborn, Germany.
2008. The Relevance of Agricultural Value Chain Promotion for Poverty Reduction –
A brief Look at Practicioners' Perspectives. Presentation at the Poverty Reduction, Equity and Growth Network (PEGNet) Conference 2008: Assessing Development Impact – Learning from Experience. September 11-12 2008, Accra, Ghana. (http://www.pegnet.ifw-kiel.de/conference-2008-paper/hoeffler.pdf)

2008. Gender Implications of Rising Commodity Prices. Paper Presentation at Humboldt University Berlin, Workshop on Gender and Globalisation, June 24, 2008, Berlin.

2007. How can rural producers in Africa become more competitive in the face of globalisation and supply chain integration? Panel Discussant at the 2nd European Forum on Sustainable Rural Development, June 18-21, 2007, Berlin, Germany. http://www.ruralforum.info/en/documentation/inputs)

2007. (with H. Asche) Direct Interventions to strengthen the ability of the poor to participate in the economy. Presentation and Discussant at the International Conference "Value chains for broad-based development", May 30-31 2007, Berlin, Germany.

2007. (mit S. Ouma & D. Guenther) Implementing a QMS for EurepGAP standard certification under option 2: Lessons learned from the Kenyan pilot project and a way forward, PSDA publication, Ministry of Agriculture, Nairobi, Kenya.

2006. Promoting the Kenyan Potato Value Chain: Can Contract Farming help build trust and reduce transaction risks? in Fritz, M., Rickert, U. & Schiefer, G. (eds.) (2006): Trust and Risks in Business Networks. Proceedings of the 99th European Association of Agricultural Economists (EAAE), February 2006, Bonn, Germany, pp. 517-27.

2006. (with K. Strohm) Contract Farming in Kenya: Theory, Evidence from selected Value Chains and implications for Development Cooperation. Ministry of Agriculture publication, Nairobi, Kenya.

2005. (with G. Maingi) Rural Urban Linkages in Practice: Promoting agricultural Value Chains. Entwicklung und Ländlicher Raum, Vol. 39, 05/2005, pp. 26-28. (http://archiv.rural-development.de/fileadmin/rural-development/volltexte/2005/05/ELR_dt_26-28.pdf)

Also available in French:
Heike is an efficient, timely and through reviewer for AJFAND. We value her friendship and support. Thank you Heike and Happy New Year. Ed. AJFAND
---
Dr. Ephraim Nkonya

Dr. Ephraim Nkonya is a senior research fellow at the International Food Policy Research Institute (IFPRI) in Washington D.C. Ephraim leads an IFPRI program on land resources for poverty reduction. His region of expertise is sub-Saharan Africa and central Asia. Ephraim has published widely in referred journals on issues related to natural resource management and poverty reduction.
Ephraim is a true east African, with Tanzanian citizenship and ancestral heritage from Kenya and Uganda.  Ephraim grew up in rural areas, an environment that inspired him to study even more how natural resources that surrounded him during his childhood could be used to reduce poverty. Before joining IFPRI in 1999, Ephraim worked for the Tanzania research and development department in the Ministry of Agriculture. Ephraim then pursued his Masters and Ph.D. degrees in agricultural economics at Kansas State university in the U.S. from 1992 – 1999.  He joined IFPRI in 1999 and was outposted in Uganda where he led a project on land management and poverty reduction from 1999 to 2003. One of the tasks of this project was building capacity of collaborators to conduct empirical studies. To achieve this, Ephraim mentored graduate students from Makerere University and offered two full course lectures in 2001 and 2002 in the department of agricultural economics. Working with graduate students was one of the most exciting experiences in Ephraim's career experience and he has continued serving as an external examiner to many students pursuing degrees in African, European and American universities. Ephraim moved back to IFPRI headquarters in Washington D.C. in 2003.
One of the most exciting lessons that Ephraim has learned in his research work is innovativeness of farmers and communities to adapt to harsh biophysical and socio-economic environment. The difficult environment that poor farmers face has inspired Ephraim to conduct even more research on natural resources and poverty reduction, since there is still a lot that policy makers and planners need to know to help the poor rural communities to realize real development and overcome the ever changing biophysical and socio-economic environment.
One of the most inspiring poor farmers in Ephraim's life is his mom, Perpetua Maduhu, who woke him up at 5:00am every day to do some chores before going to school. She is a demonstration of the innovative, hard working poor farmers who must do a lot to feed and help their children to get education.
Ephraim is one of the most dedicated reviewers and supporters of AJFAND. We value your contribution Ephraim and look forward to working with you again in 2010. HAPPY NEW YEAR. Ed AJFAND