Profile
Rev. Francis Aboagye-Nuamah

Rev. Francis Aboagye-Nuamah is a Senior Lecturer at the Methodist University College Ghana. He is currently the Head of Department for the Department of Nursing & Applied Sciences. He holds a Bachelor of Science in Agriculture and Master of Philosophy in Crop Science, both from the University of Ghana. He also has a Bachelor of Theology degree from the Trinity Theological Seminary, Accra, Ghana. He is a Doctor of Philosophy (PhD) in Plant Pathology candidate at the Kwame Nkrumah University of Science & Technology (KNUST), Kumasi, Ghana.
Francis has been involved in Teaching and Research in the University since July 1999. He started as a Teaching Assistant at the Crop Science Department of the University of Ghana. He worked as a Graduate Research Assistant on the Yam Quality Project (Developing integrated protocols to safeguard the quality of yam tubers), a collaborative project between the Natural Resources Institute (NRI), UK, the Ministry of Food and Agriculture (MoFA), Ghana and Crop Science Department of the University of Ghana. He has worked on a number of projects including molecular characterisation of cocoyams utilising isozyme and RAPD markers; characterisation and preliminary evaluation of some accessions of pearl millet, and assessment and management of postharvest losses of vegetable and tuber crops in Ghana.
Francis is a Postharvest Expert & Consultant and a Trained Postharvest Master Trainer under the Dr. Diane Barrett led HortCRSP project in Tanzania (2011-12). He is experienced in cost/benefit analyses and training program design. He has served as a Consultant & Facilitator on a number of the Skills Development Fund (SDF) Ghana sponsored projects on capacity building for farmer groups on good agronomic and post-handling practices.
Francis serves as the West Africa Regional Coordinator for the Global Entrepreneurship Training (GET), a collaborative training programme between the Methodist University College Ghana and the Handong Global University, South Korea.
His research interests include postharvest management, plant pathology/crop protection, food safety/security and sustainable food production. His current research is on "Assessment and mitigation of mycotoxins in the poultry feed value chain in Ghana."
Francis was a Fulbright Scholar at the Department of Agricultural & Biosystems Engineering of the Iowa State University of Science & Technology, Ames, USA in 2016–2017. He won the William Ofori Atta Award (2009) for EXCELLENCE in WORD AND DEED (Holistic Lifestyle) presented by the Ghana Fellowship of Evangelical Students (GHAFES) at the Trinity Theological Seminary, Legon.
Francis is an ordained Minister of the Methodist Church Ghana and serves as a pastor in the Wenchi South Circuit of the Methodist Church Ghana.

Email: aboagyenuamah@gmail.com

Rev. Francis Aboagye-Nuamah has joined our team of AJFAND reviewers and already he is timely and thorough in the area of postharvest technology where he works both as a trainer and a consultant. Welcome him and we wish him all the best in his career growth. ED. AJFAND
---
Dr. Hilda Vasanthakaalam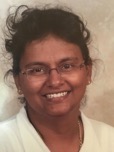 My passion towards teaching is pledged to support & promote teaching using innovative approaches & providing hands-on skills in laboratory / pilot plant. I also use reflective practices to enhance student experience in learning and use moodle platform. I have 23 years of experience in higher education in international environment with expertise in teaching and assessment at UG&PG levels, program / curriculum developments, course coordination, teaching-learning enhancement, program / curriculum review & mentoring (staff and students) with pastoral care
Administratively, I am the Dean, School of Agriculture & Food Science (being the second term), College of Agriculture Animal Science and Veterinary Medicine (CAVM), University of Rwanda, Kigali, Rwanda. I joined the Department of Food Science and Technology in February 2000. Earlier, I worked at Institute for Social Sciences & Research, Vellore, India. It is here that I learnt the need for institution community link and also fashioned the dexterity of interacting with the community. My teaching career was also nurtured at this Institution. I obtained her BSc (N, FSM & D) and MSc (FSM & D) degrees at Bharathiar University; after 4 years of service at ISSR, I obtained my PhD (Food Science & Nutrition) at TNAU, India. In 1989 I was trained at an International training program on Tourism Education by WTO- PATA, Ministry of Tourism, Govt of India. This enabled me to launch the MTA (Master of Tourism Administration) program under the Shelton School of Tourism at ISSR.
In Rwanda, I was initially PI in two USAID funded researches (CRSP Bean and Horti CRSP) and in Harvest Plus researches, I was also involved in orange flesh sweet potato (DONATA), and ASARECA funded research on tree fruit processing with RAB. During my tenure in Rwanda, I've also received several other international trainings such as the hermetic storage of cereal grains by Israeli experts / Ministry of Agriculture of Rwanda, Global nutrition training at Sweden by SLU, GM food safety assessment in 2008 by FAO, HACCP / GAP training in 2009 by MSU experts and Ministry of Agriculture of Rwanda, Postharvest loss Assessment training in horticulture by Gates Foundation and the like. In April 2010, I won the COCRAN Fellowship of USDA that facilitated me to undertake soybean processing training at NSRL, Illinois USA. These trainings have enriched my research contributions.
Over the years I have become inquisitive to perceive changes in bioavailability of nutrients, functional properties, nutritional profile of foods during processing and passionate about developing novel nutritious & safe foods which can be commercially scaled up that are core themes of my researches. I have proven track record in successfully supervising PhD/MSc research and experience of writing research proposals and securing external funding as PI ($330 869/-) or as part of collaborative teams (€900 000). I have brought in processing and training facility through negotiation (UNIDO €243,017), contributed to lab assets; and now I am establishing sensory evaluation lab and crop collection center for farming communities. I have deployed postharvest technologies in communities. I've excellent communication skills as evidenced by my publications, as reviewer in international journals and Patron of Innovative Farming [a new upcoming Indian Journal; E-ISSN: 2455-6521] and in national and public engagement presentations in grain processing, triggering bioavailability of nutrients and active compounds thro' research in processing, prevention of postharvest loss, nutrition and public health disciplines. I'm proactive in research and administrative leadership skills. I have well-developed interpersonal skills and possess proven ability to work within multicultural environment & inter-disciplinary teams in R&D activities both in developed and developing countries. My new research is in partnership with Partners in Health, and a local NGO; I'm involved in developing a nutritious food for children < 5 years to alleviate malnutrition in which I have brought on board a PhD scholar; this research is also funded by USAID. I am an external examiner for PhD research at 2 South Indian Universities. Currently I am supervising 4 PhD from Ghent University, University of Nairobi and Egerton University. At school, I won the best School Pupil Leader (SPL) Award and on completion of BSc I received Gold medal as the Best All Round Student.

Email: hilda.vasantha@gmail.com

Dr Hilda VASANTHAKAALAM has been our dedicated reviewer for a while now. As both Senior Lecturer and Dean of her faculty she is extremely busy but still finds time to help us out. We do wish her all the best in her service. ED. AJFAND

---
Dr. Francis Kweku Amagloh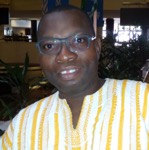 Francis Kweku Amagloh is an Associate Professor of Food Science and Technology in the Department of Food Science & Technology, Faculty of Agriculture, University for Development Studies, one of the 10 public universities in Ghana. He holds a PhD in Human Nutrition from Massey University, New Zealand; MSc in Food Science & Technology, Kwame Nkrumah University of Science & Technology, Kumasi, Ghana; and BSc in Food Science & Nutrition, University of Ghana, Legon, Ghana. He is currently Head of the Department of Food Science & Technology within the Faculty of Agriculture at the University for Development Studies in Tamale, Ghana.
Amagloh has a wealth of experience in using food-based approaches to improve human nutrition. His research focuses on recipe refinement at both commercial- and household-levels food products to improve nutrition and economic welfare.
Amagloh is currently collaborating with scientists from University of Illinois at Urbana-Champaign and Tuskegee University based in the U.S.; the International Potato Centre; and local non-governmental organizations on projects centered on using soybean, orange-fleshed sweetpotato, and orange maize to improve nutrition.
Based on these collaborations, Amagloh has had several honours, awards and research support. Francis is a part of the Soybean Innovation Lab-MRA 5's nutrition team as well as the task leader for orange-fleshed sweetpotato cultivation and consumption at the household level as part of USAID's Resiliency in Northern Ghana (RING) project. Additionally, he is the recipient of the International Training Fellowship from the Nutricia Research Foundation.
Amagloh is currently supervising the creation of a Food Analytical and Nutrition Lab for the Council for Scientific and Industrial Research-Savannah Agriculture Research Institute, a USAID sponsored project. He has used these opportunities to train and mentor several undergraduate and postgraduate students, resulting in several degrees awarded by public universities in Ghana.
Francis Amagloh is a member of the Ghana Association of Science, Ghana Nutrition Association, African Potato Association, African Nutrition Association and African Society of Food Science and Technologist. Francis is a point of reference on sweet potato nutrition and has number of publications on this subject matter to his credit.
Read more about Amagloh's work by visiting his ResearchGate profile and his ORCID iD.

Email: fkamagloh@uds.edu.gh

Francis Amagloh has been associated with AJFAND for years. He has shown great support for the journal as a reviewer and as technical advisor. His unwavering support and reliability have helped immensely over the years. We value him and wish him well in his future endevours. ED. AJFAND
---
Dr. Imaobong Inyang Udousoro

Dr Imaobong Udousoro is a Senior Lecturer at the Department of Chemistry, University of Uyo, Uyo, Akwa Ibom State. She has a Ph. D in Analytical/Environmental Chemistry and an M. Ed. in Educational technology from the University of Ibadan. She is a Fellow of the Chartered Institute Chemists of Nigeria (ICCON); and a member of the Chemical Society of Nigeria (CSN), Organisation of Women in Science in the Developing World (OWSD) and American Chemical Society (ACS). As a research assistant to Dr Stefan Hauser in the soil chemistry laboratory early in her career, she engaged in the characterisation of the physical and chemical properties of soils at the International Institute of Tropical Agriculture (IITA), Ibadan, Oyo State, Nigeria. She has served as a member/chairperson on Environmental Impact Assessment (EIA) review committees for the Federal Ministry of Environment and Mineral Resources from 2006-2012. She was selected as a resource person for a non-governmental organisation, the Inoyo Toro Foundation on excellent teachers in teaching of science and mathematics in secondary schools in Akwa Ibom State. Dr Udousoro has contributed to national and global sustainable development as an educator and researcher.
Her research and professional focus are on Hydrogeochemistry – assessment of water, soil and sediment quality, pollution indicators, physicochemical and elemental analyses, anthropogenic contamination of natural ecosystem; Atmospheric pollution – monitoring of air pollution (particularly elements), source apportionment, their spatial and temporal variations; and Food analyses (natural and processed) – nutritional and non-nutritional compositions, multivariate statistical analyses and human health risk assessment of toxic elements in foods. She has a passion for food composition and safety in the Niger Delta region because of the negative impact of the oil and gas industry.
Her interest in the safety and quality of dietary supplements that flood the Nigerian markets led to a collaborative study on dietary/herbal supplements (natural and processed) with Butler University's Department of Chemistry, Indianapolis, Indiana, USA and the Department of Agriculture and Environmental Sciences, Lincoln University in Missouri, Jefferson City, USA. This study has been extended to select countries in Europe and Asia and some of the results published, and presented at Pittcon Conferences. She is currently monitoring air pollution status in Akwa Ibom State using bioindicators, in collaboration with Butler University, Department of Chemistry, Indianapolis, Indiana, USA.
She has 2 book chapters and authored/co-authored more than 30 research articles in national and international journals. She is a reviewer for both national and international journals; and attended workshops and short courses and presented papers at conferences within and outside Nigeria.

E-mail: imaobong2i@yahoo.com

Dr Uduosoro is clearly a woman scientist on the rise, serving as a role model for many young African women who wish to pursue this line. We are proud of her and value her support as a committed AJFAND reviewer. We wish her all the best in her career growth. ED. AJFAND.