Profile
Prof. Lars Olav Eik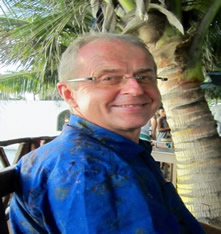 Lars Olav Eik is a Professor at Noragric, Department of International Environment and Development Studies, Norwegian University of Life Sciences (NMBU), Norway. After graduating from NMBU in 1982, he joined Sokoine University of Agriculture (SUA), Tanzania working on dry season feeding of ruminants and introduction of dairy goat keeping in Tanzania. After this assignment, he returned to NMBU and completed his PhD based on work with dairy goats in Norway. Since 2005, he has been the Norwegian coordinator for three major research programs in collaboration with SUA. He has also participated in research projects in Ethiopia, Malawi and South Africa. Working together with farmers and private sector, his main interest is multifunctional and innovative production systems for small ruminants, both in tropical and temperate regions. At Zanzibar, he is currently involved in a value-chain research program aiming to link stallholder farmers with upmarket restaurants on the island. In Norway he works with sheep farmers and indeed together they have observed that Norwegian lambs slaughtered directly from the mountain pastures have a distinct flavor and fatty acid profile, features that may be used for marketing of Norwegian lamb both in Norway and abroad. He has supervised a number of Ph.D. students, particularly from East Africa. At his home university he teaches small ruminant nutrition & production systems in temperate and tropical regions.
Email: lars.eik@nmbu.no

Dr Eik started to review for AJFAND a while ago and has shown dedication and proven timeliness to this cause. We value his support in areas of animal science in general and small ruminant nutrition in particular. We wish you all the best in your professional career Dr Eik. Thank you. Ed. AJFAND
---
Mr. Aimé Ngidjol Mbeh
ENGLISH BIOGRAPHY:
Mr. Aimé Ngidjol Mbeh, is a professional translator and language teacher. He works with the Cameroon's Ministry of Secondary Education. He is a full product of the University of Yaoundé I, Cameroun, where he got a B.A. in combined English and French Languages and Linguistics in 2006, graduated in 2008 from the Higher Teacher's Training College of the said University with the Secondary and High School Teacher's Diploma 2nd Level, and a Professional Master's in Translation in 2015.

As a teacher, Aimé felt he could capitalise on the experience grasped in teaching English and French languages to disseminate knowledge from other subject fields by translating from and into the two languages. As a matter of facts, the corpus for his Professional Master's dissertation is Professor Ruth K. Oniang'o's article "Contemporary African food habits and their nutritional health implications" whose French version is available.

He has been carrying out translation assignments in the said language pair on a freelance basis for national, continental and international translation agencies and for other direct clients. He is registered on online translation platforms such as Translation Directory and TranslatorsCafé, and on LinkedIn, the professional social network. The publication of the French version of Professor Oniang'o article in AJFAND will undoubtedly open up to him new job prospects and new avenues for career development.

Aimé, who can be considered as a language and effective communication lover, is currently taking a training program in Conference Interpreting. Only the sky seems to be his limit in mastering language-related professions.
AIMÉ NGIDJOL MBEH
Translator (English <> French)
Email: aimembeh@gmail.com
Skype ID: adjolo_2
FRENCH BIOGRAPHIE:
Monsieur Aimé Ngidjol Mbeh est traducteur professionnel et enseignant de langues en service au Ministère des Enseignements secondaires au Cameroun. Il a suivi toute sa formation académique et professionnelle au Cameroun, à l'Université de Yaoundé I, la mère des Universités de ce pays. Il y a obtenu tour à tour, la Licence ès Études bilingues en 2006, puis a été reçu à l'École normale supérieure d'où il est sorti nanti du DIPES II (Diplôme de Professeur de l'Enseignement Secondaire 2è Grade) en 2008, enfin en 2015 le Master professionnel en Traduction après deux années de formation.

En tant qu'enseignant, Monsieur Ngidjol a jugé bon et utile de tirer parti de l'expérience acquise dans l'enseignement du français et de l'anglais pour faciliter la transmission des connaissances des autres spécialités par le biais de la traduction anglais-français et vice-versa. La preuve en est que le corpus de son mémoire du Master professionnel en Traduction n'est autre que l'article du Professeur Ruth K. Oniang'o's article "Contemporary African food habits and their nutritional health implications" dont il a produit la version française.

Il effectue des traductions dans les deux langues en tant que traducteur indépendant. Il travaille avec des agences de traduction basées au Cameroun, en Afrique et dans le reste du monde. Il est membre des plateformes de traduction en ligne (Translation Directory et TranslatorsCafé) et du réseau de rencontre des professionnels, LinkedIn. La publication de la version française de l'article du Professeur Ruth K. Oniang'o dans la revue AJFAND lui apportera, à coup sûr, de nouvelles possibilités d'emploi et de nouvelles perspectives de perfectionnement professionnel.

Aimé, qui se considère comme un amoureux des langues et de la communication réussie, suit actuellement une formation en Interprétation de Conférence, preuve que son ambition de maîtriser les métiers de la langue est loin d'être satisfaite.
AIMÉ NGIDJOL MBEH
Translator (English <> French)
Email: aimembeh@gmail.com
Skype ID: adjolo_2
---
Dr. Anna Herforth
Anna Herforth is a researcher and consultant specializing in the links between agriculture, food systems and nutrition. She holds a Ph.D. in international nutrition from Cornell University, M.S. in food policy from Tufts University, and a B.S. in plant science from Cornell University. She is currently an adjunct Associate Research Scientist at Columbia University, and a Senior Editor for the journal Food Security. She has worked with the World Bank, UN and CGIAR agencies, nonprofit organizations, and academia on food and nutrition in Africa, South Asia, and Latin America. In each region, she spent considerable time with agricultural and indigenous communities. Dr. Herforth is a co-founder of the Agriculture-Nutrition Community of Practice (Ag2Nut), a professional community with members from over 90 countries.
Email: awh6@cornell.edu
Anna has been such great support to our journal right from inception, as a reviewer and connecting us to her vast network. Thank you Anna and we wish you all the best in your future endevours. Ed. AJFAND
---
Ms Emily Kaveza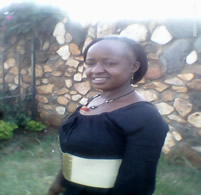 My name is Emily Kaveza, I am a part time student at the University of Nairobi pursuing a Bachelor's degree in Language and Communication. I am currently the Editorial Assistant at AJFAND (African Journal of Food, Agriculture, Nutrition and Development) where I have worked for many years assisting in production of the scientific journal. My connection with AJFAND has been very useful in my life for it has widened my skills and made a change to my career. I thank the Almighty God for the Editor-in-Chief, Prof. Ruth Oniang'o, who had faith in me that I could make it, especially when I joined the organization with little knowledge. My major role has been dealing with new manuscript submissions, ensuring conformity to the journal's standards and also communicating to authors and reviewers pertaining to the review process. In the many years I have spent reading manuscripts and interacting with authors, I have learnt that it is not easy to do research, collect data and analyze it in a professional way to be shared worldwide through publishing.

It has been interesting reading scientific research papers from different fields around Africa. The lesson I have learnt is that all these authors have good information to share with the world. What matters is how well they organize their ideas and data to be accepted for publication. Publishing is a process and it takes a bit of time and requires patience. When the information is released online, the author(s) celebrates and also the AJFAND team joins in the celebration because it is not easy to come up with a set of 10 or more good papers to form an issue. But again we feel sorry for authors whose papers are rejected for various reasons, because they worked hard to compile the data. Rejection does not mean that one is a bad researcher, rather it opens up one's brain to put in more effort in future in terms of data collection and presentation.
My interest in pursuing a degree in Language and Communication was as a result of realizing that one needs good English to communicate and be competent in the scientific world of new technologies.

I'm still in the process of pursuing my university education, completing my first year in April 2016 and starting second year in May 2016. I take this opportunity to thank you all who offered their support by way of giving funds for tuition fees and not forgetting those who gave encouragement, especially the Editor-in-Chief who has created a good environment for me to work and go to school. I will not forget my good friends Prof. Richard Douglass together with his wife Marian who went out of their way to pay half of my first semester's tuition fees. Also thanking Prof. Joe Regenstein for his support with funds.
May God bless you all abundantly.
Emily Kaveza
Email: emilyajfand@gmail.com
Emily continues to be a very important part of the AJFAND secretariat and virtually tracks every manuscript o its conclusion. She is now pursuing her first degree at the University of Nairobi as on a part-time basis, to map her future career and enhance her professional skills. Last time we carried her story, two of our valued reviewers reached out to contribute towards Emily's tuition at the University of Nairobi. We very much appreciate that support and appeal for some more.
Her first Semester results show that she is upto the challenge. Thank you all.
Ruth Oniang'o
Emily's mentor
---
Ms Audrine Mikhala
My name is Audrine Mikhala. I am a nutritionist having completed my MSc. in human nutrition from McGill University, Montreal Canada. I hold a BSc. degree in Biochemistry, with a major in Biotechnology and Molecular Biology from University of Nairobi. Prior to earning my scholarship to study at McGill, I provided research, technical and administrative support at the Nutrition Department of the Kenya Medical Research Institute - Center for Public Health Research (KEMRI-CPHR). I was intimately involved in nutritional surveys as well as elaborate laboratory analysis of multiple micronutrients.

This work experience is what sparked my interest in nutrition and motivation, ultimately leading me to pursuing further studies in human nutrition. My MSc. thesis was about how culture, taboos and feeding practices can ultimately lead to malnutrition. The research addressed the "utilization" aspect of food security; food may be available, affordable and accessible but due to traditional beliefs, a group might be prohibited from consuming certain types of food, which eventually limits their micronutrient intake. Information on how little things like taboos and traditional practices can pose a great barrier to achieving food security needs to be disseminated to educate the masses.

I returned home (Kenya) from McGill to join the "job seeking" group, locally known as "tarmarcking". It has been difficult to find a job in my sector, even at entry level. I was gracious enough to find someone who would give me that long sort opportunity to apply myself and to stay relevant in nutrition circles. Prof. Ruth K. Oniang'o, has given me a chance to work for the African Journal of Food, Agriculture, Nutrition and Development (AJFAND). Working at the journal has improved my writing and editing skills greatly, which as a researcher are key aspects in publishing a paper. It also helps in broadening my horizon in terms of being 'well-read', as I get to learn new information through reading many articles. All in all it is a step in the direction I was praying my nutrition career will take in becoming a nutritionist and do a PhD while on it.
Audrey is a charming, vibrant and intelligent young woman and a great addition to my group of young scholars in my office. Welcome Audrey. I know we shall benefit a lot from your stay. Ed. AJFAND
---
Dr. Takemore Chagomoka
We at AJFAND are very proud to welcome Dr. Takemore Chagomoka as one of our esteemed reviewers and wish to congratulate him on completing his PhD and joining AVRDC as a research scientist. We hope to benefit from his plant science expertise and language proficiency. Ed. AJFAND
Curriculum vitae
Name: Takemore Chagomoka
Address: 3969 Tynwald North, Harare, Zimbabwe
Email: tchagomoka@yahoo.co.uk
Date of birth: 7 April 1976
Place of birth: Marondera, Zimbabwe
Languages: Shona (proficient user/mother tongue), English (proficient user), French (independent user), Kiswahili (proficient user), Portuguese (basic user), German (basic user)
(*) Languages levels are based on Common European Framework of Reference for Languages

View full CV ..... [PDF format]