Profile
Ms Elizabeth Wafula
Position: Tutorial Fellow
Institute: Jomo Kenyatta University of Agriculture and Technology, Juja main campus, Kenya
Postal Address: Jomo Kenyatta University of Agriculture and Technology, P.O. Box 62, 000-00200, Nairobi, Kenya
Email Address: lizakhungz@gmail.com or elizabethwafula@jkuat.ac.ke
Elizabeth is currently a member of the teaching fraternity at the Jomo Kenyatta University of Agriculture and Technology (JKUAT). She works in the Department of Food Science and Technology where she teaches students at the undergraduate level Food and Nutrition Security. Apart from teaching, she is also a consultant with ICRAF researching on nutrition-sensitive development of novel food products from wild fruits using locally available bioresources and technologies. The goal of this research work is to improve the nutritional status and provide an alternative means of generating rural incomes among the poorest of the poor. She is also part of a team that trains farmers on mango value addition. Elizabeth is currently completing her MSc. in Food Science and Nutrition at JKUAT, has a Masters in Human Development and Food Security from Universítá deglí Studí Roma Tre, Rome Italy (cum laude) and attained her first degree in Food Science and Nutrition (First Class Honors), JKUAT.
Elizabeth's feedback on the publishing process with AJFAND is as follows;
"The article, 'Impact of ripening stage and drying on the quality attributes of Apple mango cubes and leathers', is my first scientific paper. It was necessary for me to publish my research work as a requirement for the award of Master of Science in Food Science and Nutrition. I chose to publish with AJFAND because of its internet presence and self-highlighted role of giving African research and innovations a platform for visibility. Mango cubes and leathers are novel food products in the Kenyan context. Therefore, I saw AJFAND as the best vehicle to let people know that these innovations are possible in Kenya.

It has been a fulfilling journey to publish with AJFAND. The review process has been so rigorous and thorough that it made my paper improve tremendously with respect to both technical and non-technical content. I was even able to transfer these improvements to my Master's thesis. In addition to being familiar with the review process, I am now a better scientist as my capacity to write has improved. Finally, I would like to take this opportunity to express my sincere gratitude to the team at AJFAND for their hard work, transparency and commitment to help upcoming researchers, as myself, gain the much needed confidence to share our ideas and work with the rest of the world."
Thank you Elizabeth for accepting to join AJFAND as a Junior Reviewer. Ed. AJFAND
---
Mr. Claudius Kurtna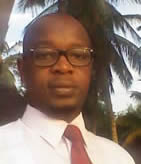 Claudius Kurtna is a young African gentleman, an entrepreneur as well as an advocate for youth in agriculture and agribusiness. His enterprise - Aquaedge Africa is exceptionally innovative and is geared to solving the global problem that is STUNTING in children. Claudius processes fish into high protein, high energy biscuits (non-fish-taste, non-fish-scent) which is the first value added product of its kind in the fish products space to provide "animal sourced protein" to humanity. Having delved into this space from college after experiencing first hand the lack of market for farmed fish at his parent's home, he has made quite some strides including getting is product certified by the Kenya bureau of standards (a national certification authority) and working with globally renowned authorities in the nutrition field such as Professor Ruth Oniang'o to better the product and get it to the masses that suffer from stunting. Having been nominated for the young innovators in agribusiness competition as one of the 60 most innovative start-ups in east and central Africa, Aquaedge Africa seems to be on the right path to providing African solutions to African challenges and addressing a host of other challenges besides demonstrating to the youth that it is actually possible to do great things in agribusiness. More of his work is available on aquaedgeafrica.co.ke .
---
Dr. Eric Pohlman
EXPERIENCE
One Acre Fund – Rwanda Country Director & Senior Partner from March 2006 – Present | Rubengera, Rwanda (eric.pohlman@oneacrefund.org)
Pioneered successful implementation of a farm finance model, which currently serves 106,000 farm families in southwest Rwanda (25% of total population in service area). Started serving farmers in September 2006 with 38 families and have overseen rapid scale up.
Model has proven to double client's farm-based income after one season. Credit model has historical repayment rate of 98%.
Established fertilizer and improved seed networks connecting over 600 cells (villages) to high-quality farm inputs and impactful products like solar lamps.
Developed network of 150 agrodealers covering 1/3 of Rwanda reaching 250,000 farmers annually.
Led partnerships with Government of Rwanda including, design and implementation of national public extension system with over 14,000 agents, co-chair of Maize Disease Task Force, co-chair of Soil Fertility sub-working group.
Responsible for recruitment, hiring, training and management of over 1,300 local staff and 30 expatriate staff.
Responsible for One Acre Fund wide field strategy as Senior Partner.
United States Peace Corps – Agroforestry Extension Agent from August 2004 – December 2006 | Tourou, Cameroon

Designed and managed a water sustainability project in Tourou, Cameroon where 25 participants from 13 villages were trained in well-construction, rain-water harvesting, water filtration, health/hygiene and community outreach.
Realized eight new wells. Mobilized 30,000 USD in resources from USAID/Peace Corps, American companies, private donations, and local community contribution.
Trained 30 Peace Corps Volunteers in water management, community assessment, community development, improved cook-stoves, well construction, water filtration and rainwater harvesting.
Designed and co-facilitated the 2006 Agroforestry Counterpart Workshop. Leader on Agroforestry Steering Committee.
Integrated Rural Development Initiatives – Field Intern June-August 2003 | Mbale, Uganda

Invented the Alternating Constant Pressure System (ACPS) for tubular biogas digesters for IRDI in Mbale, Uganda. At an additional cost of $30, the ACPS sufficiently increased pressure in household tubular biogas systems to power lamp-light which was previously impossible.
EDUCATION
B.S. Foreign Service: Science, Technology & International Affairs. Focus: International Development.
Georgetown University Walsh School of Foreign Service, Washington, DC (2000-2004).
Institute de Touraine, Tours, France (Summer 2002).
Université Cheikh Anta Diop de Dakar, Dakar, Sénégal (Fall 2002).
PUBLICATIONS
Pohlman, Eric. "The True Agents of Change in Africa: Communities and Youth" The Georgetown Journal of International Affairs. Issue 5.2 Summer/Fall 2004.
ADDITIONAL SKILLS
Native English. Proficient French. Elementary Kinyarwanda. MS Office, web design (XHTML, CSS) and GPS mapping. Varsity rower for Georgetown Heavyweight Crew Team (2000-2004). Started Nyungwe Ultramarathon.

---
Prof. Michael Lokuruka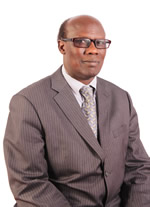 Professor Michael N.I. Lokuruka, Ph.D., Commissioner
Professor Lokuruka is currently a Commissioner of the Public Service Commission in Kenya and an Associate Professor of Food Science at Karatina University in Kenya. He has a Ph.D. Food Science (Cornell University, USA), a Masters in Food Science (University of Reading, UK), a Bachelors in Food Science and Technology (Uiniversity of Nairobi), postgraduate Diplomas in Fish Processing Technology (University of Trondheim, NTH, Norway) and Food Technology (Hebrew University, Jerusalem). Before joining the Commission Prof Lokuruka worked as a Researcher, Lecturer and Chair of the Department of Dairy and Food Science and Technology (Egerton University) and Food Science and Nutrition (Karatina University) cumulatively for over 23 years. He has worked in various technical and management roles in the Kenya Food and Fisheries Industries for over 8 years. He has in the past consulted/trained for the former Ministry of Northern Kenya and other Arid Lands, ACT Kenya, the Canadian Food Industry, Centre for Minority Rights and Development (CEMIRIDE) in Kenya and recently for Turkana County Government, and Turkana North Constituency. He was Board member on the Kenya Industrial Research and Development Institute (KIRDI) Board of Directors, where he served on the Research, Innovations and Development (RDI) and Human Resources Committees of the KIRDI Board. He has served on Boards of a number of High Schools and tertiary Institutions. He is a Technical reviewer for 2 local, 2 regional and 3 International Journals. He has recently been appointed to join the Editorial Board of the African Journal of Food, Agriculture, Nutrition and Development (AJFAND) and is Honorary Secretary to the Kenya Institute of Food Science and Technology (KIFST). He has published extensively. He is currently the Chairperson of the Capacity and Capability Development Committee, a Member of the Compliance and Quality Assurance Committee of the Public Service Commission and represents the Public Service Commission in the Council of the Kenya School of Government (KSG). He serves as the Chairperson of the Human Resource Committee of the KSG Council, and is a Member in the Staff Retirement Benefits Scheme and the Learning and Development Committees. Email contact mlokuruka@gmail.com

---
Dr. Silvenus Ochieng Konyole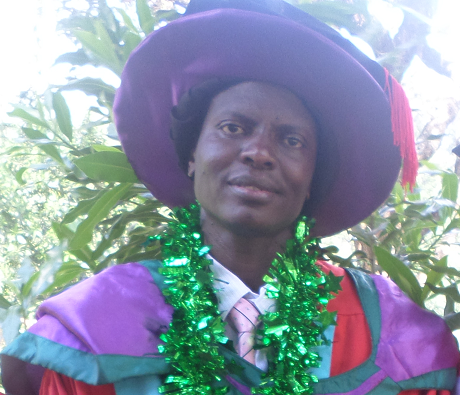 CONGRATULATIONS are due to Dr Silvenus Konyole who has been a dedicated reviewer for AJFAND even before he attained his PhD. We wish him a bright future, great professional growth now that he is armed with his doctorate. Ed. AJFAND
Dr. Silvenus O. Konyole is a Lecturer in the Department of Nutrition Sciences at the School of Public Health, Biomedical Sciences and Technology, Masinde Muliro University of Science and Technology in Kenya with over 10 years experience. Dr Konyole obtained his PhD (Human Nutrition) at the University of Nairobi, Institute of Tropical and Infectious Diseases (UNITID) on a DANIDA fellowship in 2014. He has an MSc in Food Technology and Nutrition earned jointly between the Katholieke Universiteit Leuven and the Universiteit Ghent in Belgium (cum laude), BSc. Food Science and Technology (First Class Honours) from the University of Nairobi. His current research interests include Complementary foods and child feeding, Community Nutrition & health; Food and Nutrition Security, Food Preservation, Body Composition, Maternal, Infant and Young Child Nutrition (MIYCN), among other engagements, Dr Konyole serves as a Technical Reviewer for many Scientific peer reviewed Journals among them the African Journal of Food, Agriculture, Nutrition and Development (AJFAND).This was the first journal to give me the opportunity to review 10 years ago, an experience that helped shape me for more opportunities and I am forever very grateful for this honour. He has vast experience as a consultant in community health and development areas touching on Food Technology and Nutrition, Health, WATSAN. Dr Konyole is married with two children. His Email is: konyole2000@yahoo.com OR sochieng@mmust.ac.ke
| | |
| --- | --- |
| | |