Profile
Dr. Ghizlane Choua
Dr. Ghizlane Choua is a reasercher in nutrition also a project manager. She earned a master's degree in Biosciences, Health and Environment from the University of Abdelmalek Essaâdi, Faculty of Sciences, Tetouan, Morocco in 2007 and a PhD in Biology: Nutrition and Physiology in University Ibn Tofail, Faculty of Sciences, Kenitra, Morocco in 2011. She participates in many innovative projects in the field of Health and Nutrition among children, adolescents and adults especially pregnant and breastfeeding mothers.
This knowledge and contribution in mothers and child health allowed Ghizlane Choua to be responsible on analysis of international projects such as Breastfeeding and Zinc Nutrition in children to the first year of birth, Global Alliance for Improving Nutrition, Intra Uterine Growth Restriction, Regional Arab Teens Lifestyle Study, African Regional Alliance project, and OBE-Maghreb. These Projects was a part of an international cooperation program and piloted by the International Atomic Energy Agency (IAEA-Vienna), National Center for Energy Sciences and Nuclear Techniques (CNESTN-Rabat) and Institute of Development Research (IRD-Montpellier). In the other hand she is a project manager and responsible to organize trainings for the African researchers especially to measure breastmilk and women body composition using isotope stable technique by Fourier Transformed InfraRed spectroscopy (FTIR) in this case she had a training in Kany Botswana financed by IAEA, and to prepare materials, laboratory staff and to analyze the collected samples which leads to investigating and attending goals with lower errors.
She was Honored and awarded From Sight and life in the 11th European Conference on Nutrition of the Federation of the European Nutrition Societies (FENS), in Madrid (Spain) in October 2011, by International Nutrition Foundation (INF)/Kraft Fellowships in the II World Congress of Public Health Nutrition and I Latin American Congress of Community Nutrition Alfândega Congress Center, Porto, Portugal in September 2010, by Clive West Micronutrient Fund (CWM Fund) in 4th Africa Nutritional Epidemiology Conference Nairobi, Kenya in October 2010 and by IAEA in the 19th International Congress of Nutrition in Bongkok, Thailand in October 2009.
Dr. Ghizlane Choua is a reviewer in African Journal of Food, Agriculture, Nutrition and Development (AJFAND) and in the International Journal of Child Health and Nutrition (IJCHN). Email contact chouaghizlane@gmail.com
Dr. Choua is our dedicated reviewer. I hope I soon get an opportunity to meet her. Ghizlane we value you and wish you success in your career. ED. AJFAND.
---
Dr. Justus Ochieng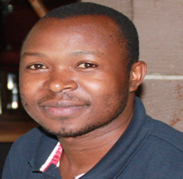 Dr. Justus Ochieng is a Research Fellow at the Tegemeo Institute of Agricultural Policy and Development, Nairobi, Kenya. Justus holds a PhD in Agricultural Economics from Faculty of Organic Agricultural Sciences, University of Kassel, Germany. He holds Master of Science in Agriculture and Applied Economics and Bachelor of Science Degree in Agricultural Economics both from Egerton University, Kenya. He has experience in agricultural research, impact evaluation, value chain, poverty and food security analysis and climate change in Eastern and Central Africa. Before joining Tegemeo, he worked for International Centre for Tropical agriculture (CIAT), African Economic Research Consortium (AERC), Kenya and International Livestock Research Institute (ILRI), International Institute of Tropical Agriculture (IITA) working in Consortium for Improving Agriculture based Livelihoods in Central Africa (CIALCA) covering Burundi, Rwanda and Democratic Republic of Congo (DRC). He is a member of International Association of Agricultural Economists (IAAE), Agricultural and Applied Economics Association (AAEA) since January, 2015Agricultural Economics Society (AES), African Association of Agricultural Economics (AAAE) and International Network for Family Poultry Development (INFPD). He has published eight scientific papers in refereed journals, one book, and two book chapters and over thirteen conference papers presented in international forums. His research interests are in the areas of Agricultural Market Development, Climate Change, Poverty and Food Security, Technology Development and Adoption.
Work email: justus@tegemeo.org
Private email: Ochieng.Justus1@gmail.com
Skype: jastopheli
Justus Ochieng started reviewing for us even before he received his PhD. He managed to graduate from the University of Kassel in Germany with a PhD in Agricultural Economics. We congratulate Dr Ochieng, we thank him for his timely and dedicated support, and wish him a bright future in his career. ED. AJFAND.

---
Dr. Benedict Oluwatosin Adu

Dr Oluwatosin Adu is a Senior Lecturer in the Department of Biochemistry, Lagos State University, Ojo. He obtained his B.Sc. and M.Sc. Biochemistry from the Lagos State University, and a Ph.D. Biochemistry from the College of Medicine, University of Lagos. He specializes in Food and Nutritional Biochemistry and has both working and research experience in Parasitology, Biosafety, Quality Assurance and Toxicology. He has supervised several undergraduate and Postgraduate Thesis and has published several papers in both local and international journals. He also has over twenty (20) years experience, in and out of the classroom as a Teacher, Researcher, Public Speaker and Community Worker. He was Acting Head of Biochemistry Department (2012-2014); Mentor, The Nigerian Academy of Science-Schlumberger SEED Schools Science Project (2104-date); Reviewer for several journals, Consultant and Resource Person to Hope Builders Skills Development and Acquisition Foundation (A youth and women empowerment NGO) and, a Pastor in The Redeemed Christian Church of God.
Over the years, he has been involved in the development of indigenous food crops for industrial utilization, evaluation of the nutritional status of undergraduate students and currently investigating anti-inflammatory and anticarcinogenic potentials of indigenous plants. He is a member of several professional bodies such as Nigerian Society of Biochemistry and Molecular Biology (NSBMB), Nutrition Society of Nigeria (NSN), Nigeria Institute of Food Science and Technology (NIFST), Nigeria Biological Safety Association (NIBSA), and American Association for the Advancement of Science (AAAS) among others. Dr Adu is married with three children. Email contact oluwatosin.adu@lasu.edu.ng
We at AJFAND value the services of Dr Adu and wish him great successful growth. He is timely, thorough and reliable. Thank you Dr Adu. ED. AJFAND.

---
Dr. Jackie Kung'u
Jackie Kung'u is an International health and nutrition professional with over 12 years' experience in Food industry, Academia (University of Nairobi, Maseno University and Cornell University) and International development (HealthBridge Canada and Micronutrient Initiative). She has a Doctor of Philosophy in Nutrition (Major - International Nutrition, Minors - Epidemiology & Immunology) from Cornell University; a MSc in Applied Human Nutrition from the University of Nairobi; and BSc in Food Science & Technology (First class honours) from the University of Nairobi.
She has had progressively higher levels of responsibility covering 10 countries in Africa (Tanzania, Rwanda, Kenya, Ethiopia, Nigeria, Senegal, Niger, Burkina Faso, Mali and Zimbabwe) and currently works as the Regional Advisor Research and Evaluation in Africa for the Micronutrient Initiative (MI). Her role involves contributing to the technical quality of MI's programs in Africa, guiding the utilization of evidence as a basis for the MI's programs and participating in the generation and dissemination of new evidence related to diverse micronutrient programs. Before she joined MI, she successfully designed and implemented her postdoctoral research study in Rwanda which focused on background nutritional studies relevant to iron biofortified beans developed by HarvestPlus. She has also worked as a Tutorial Fellow in Maseno University, Kenya and as quality controller in a manufacturing food industry in Kenya.
Jackie believes that her training, experience and motivation provide her the burden and responsibility of ensuring we achieve sustainable food and nutrition security in Africa. Specifically, the right investments in nutrition programs have the potential of addressing present and future nutrition, health and poverty by ensuring a healthy and productive population and workforce. She is committed to being a positive change agent to ensure sustainable food and nutrition security in Africa and globally in order to improve the quality of life throughout the life cycle. She believe that we need a critical mass of competent and committed nutrition leaders to cause a paradigm shift in nutrition and health programming in Africa. Two initiatives that she has participated in that have defined this are the African Nutrition Leadership Programme (ANLP) and the Scaling Up Nutrition Leadership Development in Africa (SUNLEAD) master trainer programme. ANLP aims to contribute to the development of future leaders in the field of human nutrition in Africa while SUNLEAD master trainer programme is intended to build a cohort of competent leadership trainers who will assist in scaling up leadership development programs in the African continent and will be involved in the formation of future leaders in the field of human nutrition and health. Jackie is passionate about investing in continuous personal growth and development as well as mentorship of upcoming leaders.
Email jkungu@micronutrient.org
We at AJFAND value and appreciate Dr Jackie Kung'u's contribution to AJFAND as an effective, timely and indeed passionate reviewer. Thank you Jackie and we wish you all the best in your impressive career growth. ED. AJFAND.
---
Mrs. Mavis Owureku-Asare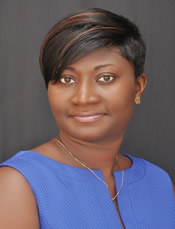 Mavis Owureku-Asare has been selected as a Fellow for the 2015 Norman E. Borlaug Leadership Enhancement in Agriculture Program (LEAP) of the US government's Feed the Future Borlaug 21st Century Leadership Initiative. The Borlaug LEAP Fellowship honours Nobel Laureate Dr. Norman E. Borlaug who has been hailed as the father of the Green Revolution. Credited with saving millions of lives, his work virtually eliminated recurring famines in South Asia and helped global food production outpace population growth. Dr. Borlaug's distinguished career epitomized the qualities of leadership, scholarship, scientific achievement, international cooperation, mentoring and passion. Mavis is one of a few outstanding graduate students who are being recognized for their promise and potential. She has demonstrated strong promise as a leader in the field of agriculture and food security. Her research has potential to make an impact in Ghana and other developing countries and honour Dr. Borlaug's achievements.
She draws leadership inspiration from Hon. Akinwumi Adesina, Nigeria's Minister of Agriculture and Rural Development (named Forbes African of the Year in December 2013). She had the opportunity of meeting him at the World Prize Event in Des Moines, Iowa in October 2013, when she represented African Women in Agricultural Research Development (AWARD) on a CARE panel to discuss "What works for women farmers in developing countries". "As a good leader, He has been able to carry the people (his greatest asset) along his vision and transformed the agriculture sector of Nigeria". Mavis Owureku -Asare has mentored other young female research scientists, under graduate and post- graduate students in the field of food science and technology. Her leadership drive is commendable.

Through the Borlaug fellowship program in 2012, She had the opportunity of networking with some of the brilliant minds in the food industry including Professor Ruth Oniang'o, a former Kenyan parliamentarian and Editor in chief of African Journal of Food, Agriculture, Nutrition and Development (AJFAND) who is one of her career mentors has positively influenced her career as a research scientist and a leader who aspires for higher service to her country Ghana.
Email contacts: mowureku.asare@gmail.com & mowureku@purdue.edu

She is a fellow of African women in Agriculture and Research Development (AWARD) and fellow of Norman E. Borlaug.
We are proud of you Mavis. ED. AJFAND