Profile
Prof. John Muyonga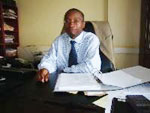 Prof. Muyonga is the pioneering Dean for the School of Food Technology, Nutrition & Bio-Engineering. He holds a PhD in Food Science from the University of Pretoria, MS from Cornell University and a B.Sc. from Makerere University. He joined the Faculty of Makerere University as lecturer in 1997, rising to the rank of full Professor in 12 years. Prof Muyonga's research is mainly in the areas of protein functionality in food systems, nutritional effects of food processing and post harvest biochemistry of fish. He is also passionate about and active in projects aimed at enhancing commercialization of scientific and technological innovations. John initiated the Food Technology and Business Incubation Programme at Makerere University, which has become a National program for commercialisation of scientific innovations in the area of food technology. Prof. Muyonga teaches meat, fish and poultry technology and food processing courses. He has undertaken several consultancy projects in aspects of nutritional interventions and food processing. Prof Muyonga is widely published and serves as a reviewer for more than a dozen international. He was awarded the Third World Academy of Science Young Scientist award for 2007. He is an Associate of the Third World Academy of Sciences and a member of the Global Young Academy. John is married to Faith and has 2 daughters (Aliinda, 8 and Atiila, 11) and 1 son (Elamo, 4). He enjoys lawn and table tennis and reading materials on personal development. Prof. Muyonga's email: hmuyonga@yahoo.com
Prof. Muyonga is a committed reviewer for the African Journal of Food, Agriculture, Nutrition & Development Ed. AJFAND
---
Dr. Arthur Kwena

Dr. Arthur Kwena is a Senior Lecturer in Medical Biochemistry, School of Medicine, Moi  University, Eldoret, Kenya. He has a BSc. Degree in Biochemistry and Chemistry from the  University of Nairobi, Postgraduate Biochemistry from Chelsea College, University of London,  MSc. Veterinary Parasitology  from the  University of Liverpool and PhD  Medical Parasitology and Entomology from Jomo Kenyatta University of Agriculture and Technology. He worked as a Research Scientist trainee in Biochemistry from 1981 to 1985 then as a Research Scientist from 1986 to 1995 at the National Veterinary Research Centre, Kenya Agricultural Research Institute, Muguga, Kenya. He joined Moi University Faculty of Health Sciences as a Lecturer in Medical Biochemistry in 1996 where he taught undergraduate MB ChB, BSc nursing and BSc Environmental Health students. He was promoted to Senior Lecturer in 2009 and is currently coordinator for  year 2 Community- Based Education  and Service programme of Moi University,  College of Health Sciences that places MBChB, BSc Nursing and BDS students for field work at various Health Centres for community diagnosis work. Dr. Kwena has participated in various research programmes including the Tick-borne diseases research programme on East Coast Fever leading to development of the infection and treatment method of immunisation against East Coast Fever (1992-1995). He has also participated in the CDC/ KEMRI/ Netherlands programme on use of insecticide treated bednets in combating infection against malaria in western Kenya (1998-2003). This programme won the Dr. Charles C. Shepard award for Science on contribution to the field of Public Health for work on the Western   Kenya Insecticide-Treated Bednet Trial. The award was presented to Authors of most outstanding peer reviewed research papers published by Centres for Disease control and Agency for Toxic substances and Disease registry. He has published 43 articles in peer reviewed journals that include 13 full papers, 9 conference proceedings and 21 abstracts in international conferences. His current research interests include Protein-Energy Malnutrition and malaria in children, Aflatoxin and Fumonisin contamination as factors in growth retardation, HIV-AIDS and malnutrition in children, Isoenzymes as tools in disease diagnosis and the role of vitamins A and E in disease diagnosis. He is currently supervising 2 MPH students and has examined 3 MPH and 1 PhD student as well as numerous undergraduate projects. He was a founder and executive committee member of the Biochemical Society of Kenya. He has also been a member of the Royal Society of Tropical Medicine and Hygiene (1993-96) apart from being an Alumni of four Universities in Kenya and the United Kingdom. He is married and has four children. Dr. Kwena's email: kwenaa@yahoo.com
Dr Kwena is a committed and valued Reviewer for AJFAND. Ed. AJFAND.
---
Dr. Sandeep Bhale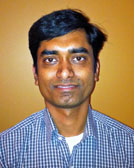 Sandeep Dattatraya Bhale studied at the Mahatma Phule Agriculture University (1993- 1997), India and earned B.Tech in Agriculture Engineering and worked in Seed Processing Plant as a plant manager before coming to US for his Graduate Studies. While in US, Dr. Bhale did his MS in Biological and Agricultural Engineering and Ph.D in Food Science at the Louisiana State University, Baton Rouge, LA, USA (Aug-2001-Feb-2007) with academic assistantships. During his MS, his specialization included work on Ohmic heating of Vegetables, among the first works introducing the use of Ohmic Heating of vegetables like Carrots. Also during his MS studies, he worked with coating of egg shells with Chitosan, derived from Chitin extracted from crustacean shells of crabs and other shells from sea foods. During his PhD, Dr. Bhale worked on use of spice extracts like Rosemary, Oregano, Turmeric and Ginger in delaying oxidation on Poly Unsaturated Fatty Acids (PUFA) in Menhaden Fish oil. In this study Dr. Bhale showed   the usefulness of rosemary and oregano in delaying oxidation of Docahexanoic acid and Epicosapentanoic acid at higher temperatures as well at accelerated storage temperatures. Both of his works were published in Journal of Food Science and received widespread recognition throughout the world. His work on PUFA's received accolades from online food magazines all over the world and was also cited in a patent. Currently Dr. Bhale serves on the editorial board of Journal of International Society of Sports Nutrition, Advanced Journal of Food Science and Technology, (Nauka Przyroda Technologie-polish) Science Nature Technologies. He also serves as an ad-hoc reviewer for top ranked journals like Journal of Science of Food and Agriculture, Journal of Agriculture and Food Chemistry, Carbohydrate Polymers, Biosystems Engineering, Journal of Food Science in addition to our Journal. He is also currently invited to serve as a Chair at Human and Nutrition division at American Oil Chemist Society's annual meeting at Cincinnati, 1-May 4 2011.
Presently Dr. Bhale with his proven extensive background on PUFA's and functional ingredients is working in Infants and Children Nutrition as a Senior R&D Scientist for Mead Johnson Nutrition, USA.
In addition to above discussed papers Dr. Bhale has co-authored a book chapter "Ohmic and Inductive Heating" and has presented several peer reviewed poster presentations at Institute of Food Technologists, a world renowned Food Science and Technology related conference held every year in USA. He is happily married to Mrs. Parul S Bhale and blessed with 2 children, Arnav and Sia.
Dr. Sandeep D Bhale, PhD and Senior Scientist, Mead Johnson Nutrition, 2400 W. Lloyd Expressway, Evansville, IN 47721, USA. Email: sandybhale@gmail.com
Dr Bhale is a very dedicated reviewer for AJFAND. His contribution is highly valued. Ed.
---
Dr. Ismael Ngnie-Teta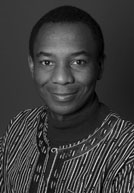 Ismael Ngnie-Teta specializes in nutritional epidemiology and health, especially concerning vulnerable populations in Africa.  Until recently, Dr Teta was Senior Monitoring and Evaluation Officer at the Micronutrient Initiative (MI) in Canada. He is Associate Researcher and Part-time Professor, at the University of Ottawa, Faculty of Health Science where he teaches Global Citizenship, Global Health and Health Information Systems. Dr Teta also chairs the HealthBridge Foundation of Canada Research Ethics Board and is a member of the Canadian Ethics Advisory Committee of the Global Health Research Initiative.
Over the past few years, balancing both a programming and research career, Dr Teta has planned and managed many health and research-related projects involving sub-Saharan Africa and Canadian aboriginal peoples in such areas as malaria, HIV and AIDS, health and nutrition. He has built key partnerships including a south-to-south community of practice on preventing mother-to-child transmission of HIV involving three African countries (Tanzania, Malawi and Cameroon). In 2003, Dr Teta founded the Montreal-based Network for Health Research and Promotion in Africa and chaired it until 2005.
Selected recent publications include a book on Anemia in West Africa (2010) and journal articles on: Multilevel modelling of risk factors of anemia in Africa (2007 and 2008), Research ethics committees' challenges in Africa (2009), Using PDAs for national micronutrient surveys (2010),and Bibliometric study of Africa's French speaking countries in nutrition (2010).
Dr Teta is a reviewer for the Indian Journal of Nutrition and Public Health Nutrition (Cambridge) and is a member of several scientific associations. He holds a PhD in Nutrition from the University of Montreal and has recently joined UNICEF.
A detailed background could be found at this link: http://www.micronutrient.org/english/View.asp?x=731
He is a valued reviewer of AJFAND. Ed. AJFAND
---
Dr. Esther Ngumbi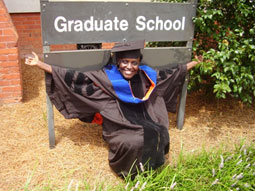 Esther Ngumbi, graduated on August, 6, 2011 with a PhD in Entomology from Auburn University, Alabama, USA. Esther's long term life goal is to work in Kenya and help in the development of Kenya and Africa. Esther hopes to establish both a Sustainable Farming Project at the Kenyan Coast and a Science and Leadership Center in Kenya. Esther has been involved in several initiatives including Clinton Global University Initiative, www.cgiu.org , Universities Fighting World Hunger, http://www.universitiesfightingworldhunger.org . She recently helped co- found WISE Partnerships in Kenya http://www.auburn.edu/academic/provost/odma/womensinitiatives/wise/Partnerships_in_Kenya.html a program that partners Auburn University students with secondary schools in the coastal region of Kenya and students attending Kenyatta University-Pwani Campus, creating a mentoring supporting network.  Esther is a founder of "Young Thinkers Kenya-creative and innovative towards sustainable development "a program that is engaging young Kenyan students attending high schools and University in solving problems affecting their communities. She is also the founder of Vision 2015: Bringing Clinton Global University Meeting to Africa http://cgiafrica.weebly.com/about-us.html .  Esther has held several prestigious fellowships and scholarships including American Association of University Women Educational Foundation International fellowship and Future Leaders Forum Scholarship by The Association for International Development and Rural Development. Esther's achievements were recently highlighted by Auburn University http://www.auburn.edu/main/take5/ngumbi.html and Auburn University College of Agriculture http://www.ag.auburn.edu/adm/comm/agillustrated/ .  Esther is a currently a Schlumberger Foundation Faculty for the Future Fellow and serves as a Board of Directors for Caribbean Education Initiative. Esther will be undertaking a post doctoral research position at Georgia Institute of Technology, in Atlanta, Georgia.  Dr. Esther Ngumbi's email: enn0002@tigermail.auburn.edu
Esther is an intelligent young academic who has stayed very supportive of the Journal and we congratulate her on her achievement and wish her success as she moves on. Ed. AJFAND
---
Dr. George Ooko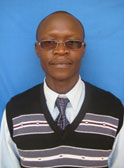 George Ooko Abong' is a 31 year old Kenyan who holds a bachelors, masters and doctorate degrees in Food Science and Technology. He currently teaches in the Department of Food Science, Nutrition and Technology of the University of Nairobi, Kenya, one of the premier Universities in East and Central Africa. He has also been trained and has vast knowledge in proposal writing, e-content development and scientific writing and communication.
At masters and PhD levels, he has done extensive work on potato processing and how the major potato products impact on nutrition and human health. He especially focused on French fries and potato crisps, major snacks in Kenyan urban centres, where he has widely published.
He has been involved in several consultancies including food handling and hygiene in slaughter house and laboratory analysis/operationalization; expert/professional advisor to ASARECA and Kenya Bureau of Standards (Kebs) towards harmonization of the East African Standards for Cassava and potato products; practical course facilitation on production of nectar and cordial juices, yoghurt, tomato sauce, jam, supplementary flour and popcorns in Kibera, Kiambiu and Mathare slams; detergent manufacture; evaluation of potato varieties and promising clones for processing into French fries and crisps; potential use of mashed potatoes for processing into chapattis and mandazis (doughnut); Fresh milk, mala, yoghurt and cheese processing; Nutritional contribution of fermented products; training on Good Manufacturing Practices in juice, milk and meat production. He is a dedicated reviewer with several journals including African Journal of Food, Agriculture, Nutrition and Development (AJFAND). Dr. George Ooko's email: georkoyo@yahoo.com
George just received his PhD from University of Nairobi, KENYA and here we carry his graduation pictures as well.
George, we wish you well and thank you most sincerely for your dedicated contribution to AJFAND. Ed. AJFAND